Columbus County Courthouse ~ Circa 1915
The two-story Classical Revival style building was designed by Joseph F. Leitner of Wilmington, N.C.  and was constructed in 1914–1915. It is made with rectangular brick with concrete accents and features a pedimented and Doric order portico. It was listed on the National Register of Public Places in 1979.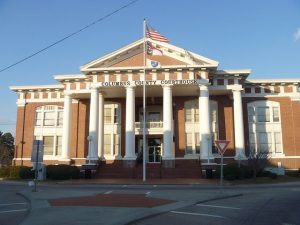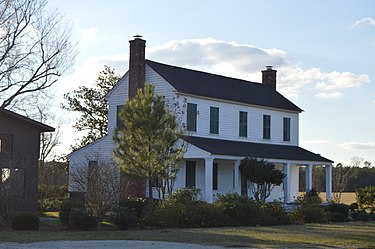 Black Rock Plantation House
The Black Rock Plantation House, also known as the Allen-Love House, is a historic plantation house located near Riegelwood, NC.  It is estimated to be built around 1845 and is a two-story, five-bay, braced frame house with Federal / Greek Revival style interior design elements.  The house is sheathed in weatherboard and has a gable roof. It has a rear shed roof addition and a replacement one-story shed-roofed front porch. The house was renovated in 2013.
The house was listed on the National Register of Historic Places in 2014.
Lake Waccamaw Depot ~ Circa 1900
Lake Waccamaw Depot is a historic train station located at Lake Waccamaw, NC.  It was built about 1900 by the Atlantic Coast Line Railroad and is a one-story, stick-style frame building with board and batten siding.  It features shaped eave brackets, gable braces, and a long low slate-covered gabled roof.  The building was moved to its present location in 1974.
It was listed on the National Register of Historic Places in 1983.  The Depot is now operated as the Lake Waccamaw Depot Museum, with displays of local history and natural history.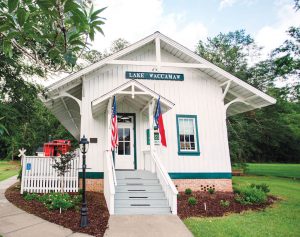 Bank of Whiteville ~ Circa 1906
Land for the Bank of Whiteville was purchased for $500 June 22, 1903, and the primary bank owner was J.D. Maultsby and family. The building, the third site recognized by the RBHPS historic plaque program, was completed in 1906.
The Bank of Whiteville Building is largely original and unchanged. The exterior is Italianate in style, stucco over brick and embellished with an original faux marble detail of plaster-like material. The stairway to the second floor is now through a door on the southwest corner but was originally an open doorless stairway to the upstairs offices, typical detail for lawyers' offices in 1900. In the back corner of the main room is the original vault, containing the original safe and two cabinets used for storing ledger sheets.